"A piece of Heaven"
Crystal waters, golden sand,endless beach…a blessed place to be.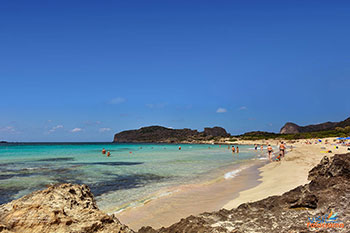 Falassarna is located 59 kilometers west of Chania and 12 kilometers west of Kissamos. Falassarna is now one of the most famous destinations in Crete, both for its beaches and for ecological interest. Falassarna is part of the Natura 2000 network, both due to its variety of flora and fauna and as an area of outstanding natural beauty.
Descending Platanos towards the west, there are two directions to choose from to enjoy the sun and the sea. The first direction is towards the area of Falassarna. Falassarna is absolutely beautiful and uniquely magical to say the least. In recent years one can also say that it has become cosmopolitan. It is an area with lovely small hotels, many taverns which serve homemade traditional Cretan dishes, numerous beach bars for beverages or snacks while you are at the beach and coffee bars where you can enjoy your drink as you are waiting for the sun to set and the view is absolutely amazing.
Camera
Video camera
Mobile
Travel bag
Snack
Map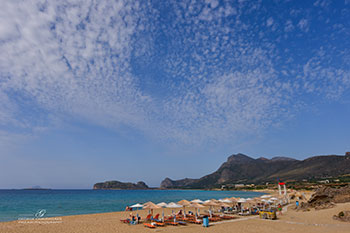 Falassarna beach has been voted the most beautiful beach of Crete and is rated as one of the 10 best beaches in all of Europe. It has crystal clear waters and wonderful white and pink sand. When the wind picks up and sea waves begin to come in one after the other, this is the best time for windsurfing lovers to arrive. Indeed an absolute adrenalin rush, not only for those who take part in the sport but also for those who delight in watching windsurfers "play" with the waves created by nature.
The beach of Falassarna extends over a very large area (about 3 kilometres from one end to the other). For practical purposes the locals have given names to different parts of the beach, for example, "Bourouni", "Kalami", "Agia Paraskevi" e.t.c. The most famous part of the beach Falassarna is called Pachia Ammos (Bourouni, Avoratias & Gulisma) it's an exotic wide sandy beach about 1 kilometre long.
Next, there is the second biggest beach (Kalami,Karkatsouli Gulisma and Xirouhi Gulisma) which is about 800 metres long and just as beautiful as the first. Kalami is a great spot for naturism because it is surrounded by rocks.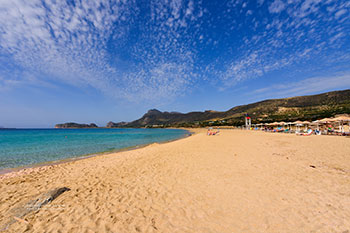 Next you reach the church of Agia Paraskevi. There you can see a spring with fresh water. Next to the picturesque church of Agia Paraskevi the beach is somewhat separate. The beach is just as beautiful as the others with beautiful white sand and it is 400 metres long. There, nature has made a small shallow bay (the locals call it "Limanaki"= harbour) here our small friends can play safely in the water for hours. The aforementioned beaches are organised and you can find modern conveniences. You can spend pleasant hours either lying in the sun or doing any water sports you wish. The beaches meet all the requirements needed to aqcuire two blue flags (Pachia Ammos).
Finally we come to the north end of the beach. Here we reach the archeological site of one of the most important harbours in Crete, Ancient Falassarna. The ancient findings are still beaten by the sun and salt of the sea.
Let's go to the other direction : Towards "Limeniskos Platanos". Here you can choose from a number of small bays which are free of crowds and noise. Ideal for those who adore peace and quiet. On your left while facing the harbour you will see Kolimbito Bay, an ideal place for families with young children. It is a small sandy bay, it could even be described as a shallow pool. Parents can relax under the sun, untroubled and confident that their children will play safely in the water.
Continuing to the left you will reach Rapanas Beach, a wild landscape with deep, crystal clean waters and large pebbles. On your right while looking at the harbour you will reach Kaikaki Bay, small and picturesque also with large pebbles an ideal place to enjoy the sun and sea peacefully. The aforementioned beaches are not organised. There are no beach umbrellas, beds or other modern conveniences. However, there are taverns in the surrounding area where you can find something to eat and drink. In addition you can also find rooms for rent if you would like to stay in this area. Next, are the beaches Limni and Livadi (Livadi beach is an organised beach with beach umbrellas and sun beds) both of them are also beautiful beaches with white sand and crystal clear waters.
Falassarna is the ideal place for those who want to spend their vacation in a quiet place with beautiful beaches and many opportunities for excursions. It is also ideal for couples in love and romantics, because here you will enjoy the most beautiful sunset in Crete!!!