This magnificent but long hike begins at the Ancient Ruins of Falassarna.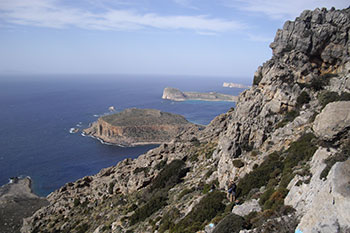 You must follow a dirt road for about 1 km which takes you to a fence. After opening the fence and walking through, make sure you have closed it again (or else the sheep will get loose). You will see ahead of you the first blue pole which marks the beginning of the hike. The whole hike has been marked with blue poles, blue arrows and blue marks on rocks…..So just follow these blue guides.
Strong shoes which hug your ankles should be worn because you will be walking on a rocky surface for most of the time and sometimes even through small bushes.
Camera
Video camera
Mobile
Travel bag
Snack
Map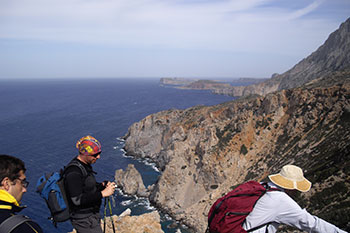 After walking for about 20 minutes stop to catch your breath and look behind you. You will see beautiful Falassarna, with its crystal blue water and the grand Prophet Elias (Manna) Mountain overlooking the area.
As you are walking you will see and smell wild theme, chamomile, thrimpa, stamnagathi, agriagginara, wild olive trees (many of which are extremely old) and many other herbs and plants – natures gifts to man!!!
While walking, sometimes upwards and other times downwards you will always have the amazing view of the islands of Pontikos, Kithira, Antikithira and the Tigani. Fortunately, the relaxing sound of the waves crashing against the cliff will help you take your mind off your sore feet. At the end you will be rewarded with the magnificent view of Grambousa and Balos beach, it will just take your breath away and make you forget everything!
You can have a cool swim in the blue lagoon of Balos beach and relax while waiting for the boat ride back either to the harbor of Falassarna, or to Kissamos harbor.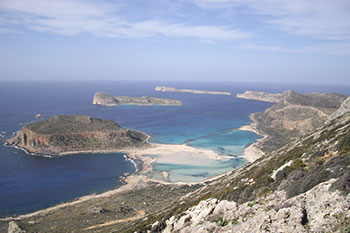 Do not Forget
Before you begin your journey you should check to find out the departure times of the boats which you will take for your return.  Also, take something to eat with you and plenty of water – at least 2 liters per person.  DO NOT GO ALONE and it would be advisable to let the hotel owners know where you are going that day, keeping in mind that mobile communication is not always possible.  A GPS might be helpful.  So have fun !!!